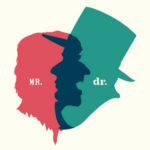 As All Hallows' Even approaches, we present Leonard Caddy's adaptation of the well known Strange Case of Dr Jekyll and Mr Hyde by Robert Louis Stevenson.
We also have a special treat for you: performances will be preceded by the first short play written by our playwriting group. If you want to know more about it, you'll have to come along!
Tickets are £10 including a programme and a strip of raffle tickets.
Fill out the form below or call 07941 108886 to book your tickets. Payment will be taken on the night – please bring cash!
You can book or change your tickets up until 5pm on the night of the performance. Tickets should also be available at the box office on the night, but we will appreciate it if you book before so we know roughly how many people are coming.
Venue: St George's Church, Vancouver Road, London SE23 2AG.
Doors open at 7pm.
Show starts at 7.45pm
Running time: Approximately 2 hours 30 minutes including a 15 minute interval.