St George's Players is a volunteer led, not-for-profit, community theatre group based in Forest Hill, south east London. As well as producing two full length plays every year, we host readings, mini shows and more.
What's on
Join us as we embark on a new chapter…
News
Shelley Brownlee shares her first experience of directing
Join us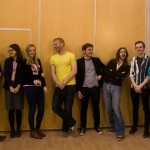 We're always looking for actors, directors, set designers, technicians and all rounders. All are welcome – no experience necessary!